Coney Island isn't a "real" place for me – it's a fictional place where on the 4th of July thin people try to cram as many hot dogs into their gullet as they can, and Podcast hosts skive off for the day.
Except it is real, and with much improved weather this week DW encouraged myself and one of her friends to head south and check it out.
I'm fortunate to live on the Q-Line, which goes straight to Coney Island – not having to change lines makes the Subway a tad more bearable.
The first thing you see when leaving the Subway Nathan's Famous Hot Dogs, home of the aforementioned July 4 'dog eating contest (NB:  Winner this year ate 72 hot dogs in 10 minutes, or 1 dog every 8.3 seconds.  I can't even THINK of a hot dog in 8.3 seconds).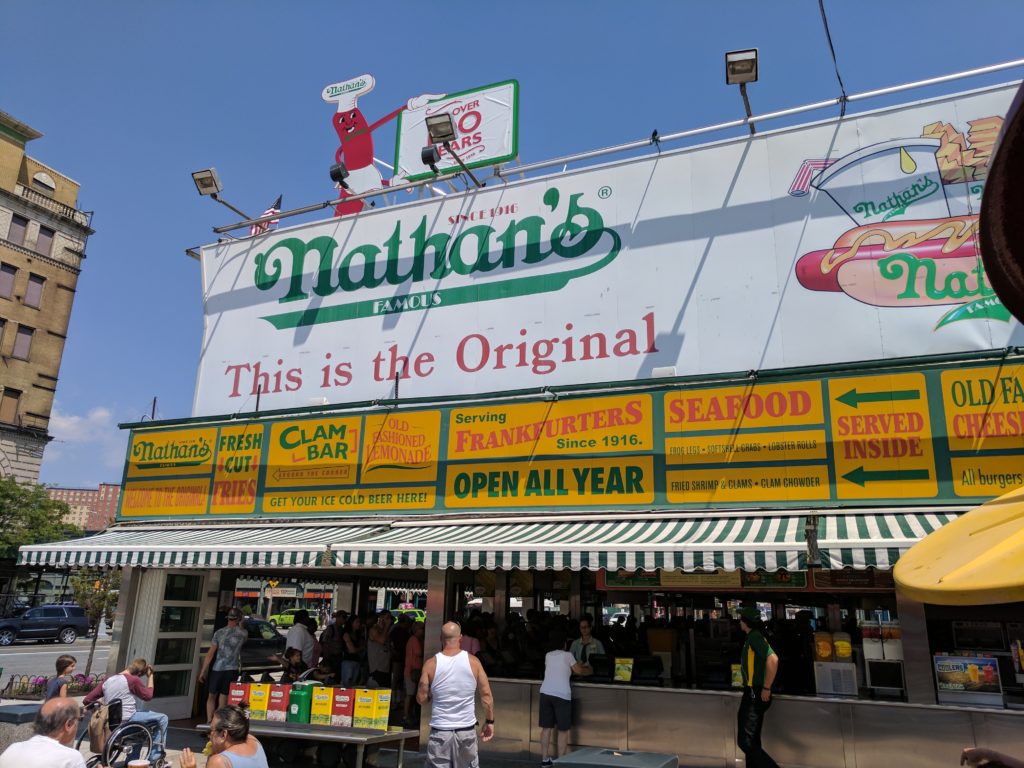 It's worth pointing out:
"Nathan's Famous" is actually the brand name of the restaurant, which I find cheekily clever; and
Every single hot dog vendor in Coney Island claims they are "the original", which I find logically dubious.
Of course I tried the 'dogs, and they were delicious (but I could eat, max, maybe 60).  I do, however, have an offer to make to Nathan's Famous, Inc. – give me one day with your staff and you'll double productivity or your money back.  I've never seen a process so in need of optimisation…
Oh – glamour shot of the 'dog.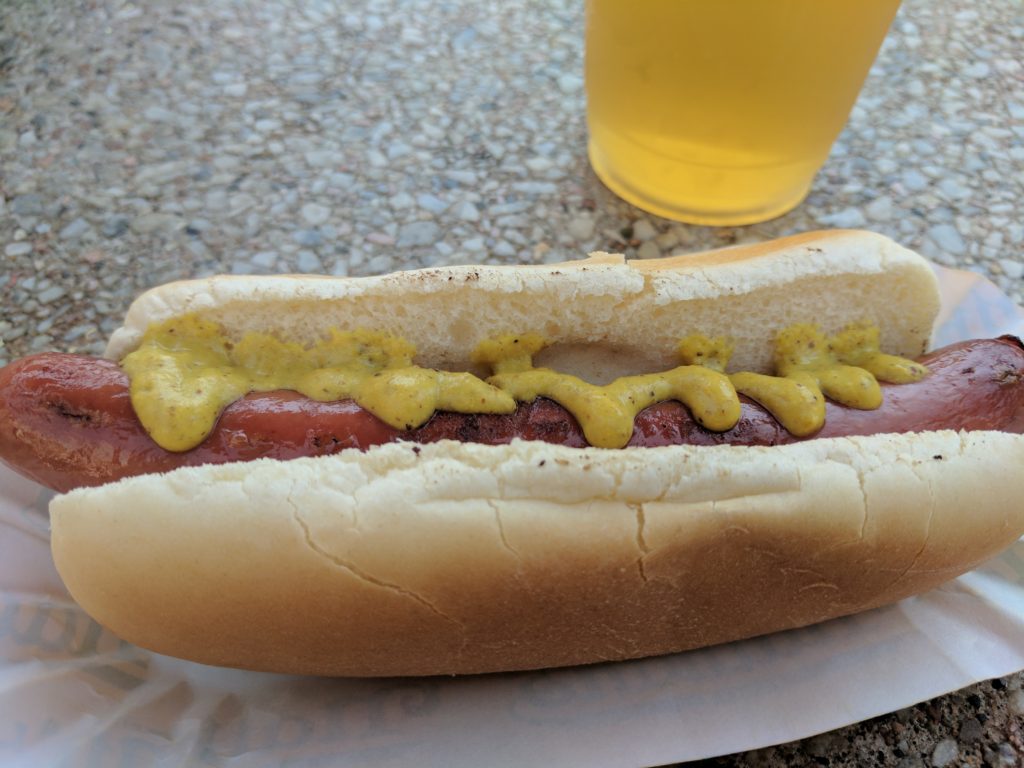 Coney Island is best known as a place of leisure – it has a very large and sandy beach, a boardwalk, an aquarium, and a Luna Park.  I was pretty amazed at the last part, because in my frame of reference Luna Park is an Aussie chain of amusement parks.  It turns out that:
the term "Luna Park" has become synonymous with fun-fairs;
there are (or have been) dozens of Luna Parks; and
Coney Island is the original.
Well that was a short-lived spout of excited patriotism!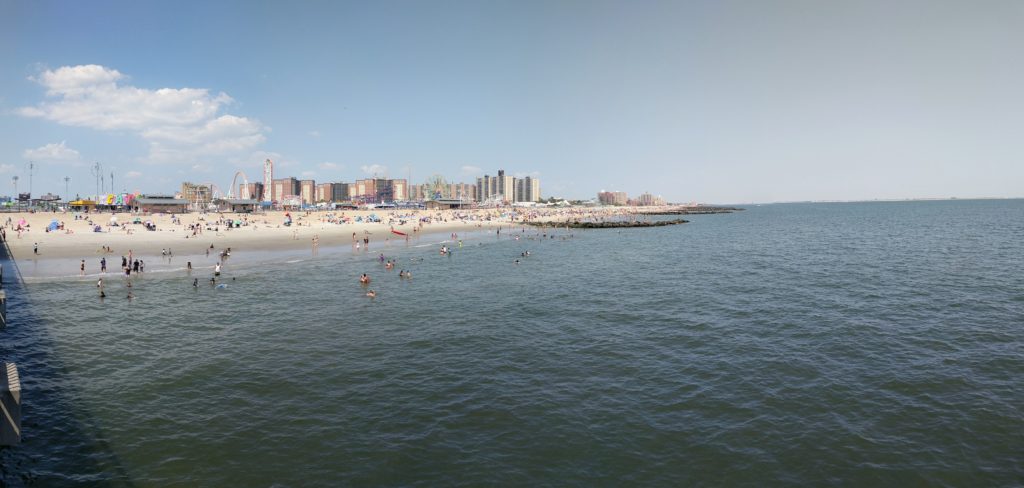 The amusements are set over c.600m of waterfront, but the parks are not contiguous.  Luna Park is split in half by "Deno's Wonder Wheel Amusement Park", which I'm sure will confuse many as you transition from a place that solely takes Luna Park tokens to one that doesn't (and isn't afraid to say it).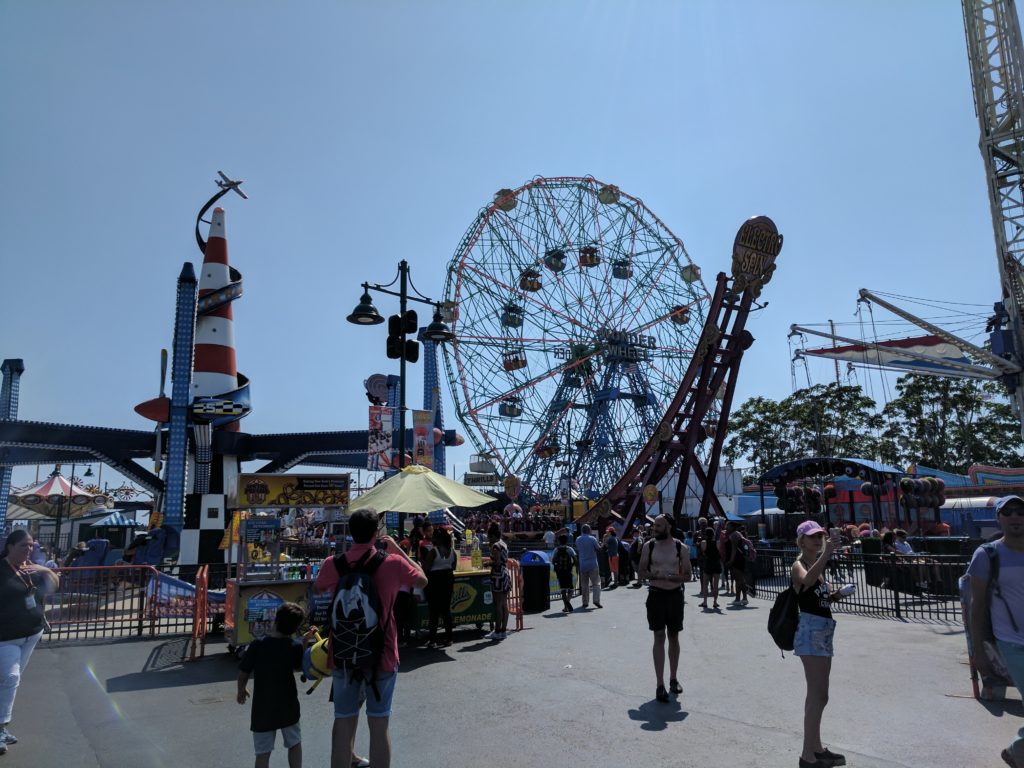 The main attraction at the Coney Island amusements is the Cyclone, a 20's era wooden rollercoaster.  It's wondrous thinking of all the times this 90-year-old structure has seen through, and the vision of someone in the 20's to manufacture something so tall and fast purely for the sake of amusement.  You immediately lose all sense of wonder when you're at the top of the first dip, when you question your sanity for riding something constructed in the prohibition era.  I like rollercoasters, but I've since discovered I prefer new rollercoasters.