On the 5th of October 2015, all UK retail chains with more than 250 employees became obligated by law to charge £0.05 ($0.07) for each single-use plastic bag that a customer uses.
Why?
Because, on average, every single man, woman, and child in the UK were using 140 bags every year.  And usage was increasing.
For the most part, chains approached this problem by allowing customers to purchase either a cheap carrier bag at £0.05p or a re-usable bag at up to £0.20.  Chains also generally reduced the quality and size of the cheaper bags.
At first people complained and got upset when picking up a few things from their local shop.  5p is an inconsequential amount of money, but the fact that it was there and that it was explicitly called out in every transaction, evoked a fairly strong emotional response.
And then it became the norm.  People coped in different ways.  Some:
brought in their already-used bags;
purchased purpose-made bags which they could keep on their person;
carried their goods 'au natural' (which feels a little like shoplifting if you ask me);
bought the £0.05 bags and just accepted to cost; or
bought the £0.20 bags and stuffed them fuller than your uncle on Thanksgiving.
But did it work?  Did this almost irrelevant charge fundamentally change consumer and retail behaviour for the better?
You bet it did!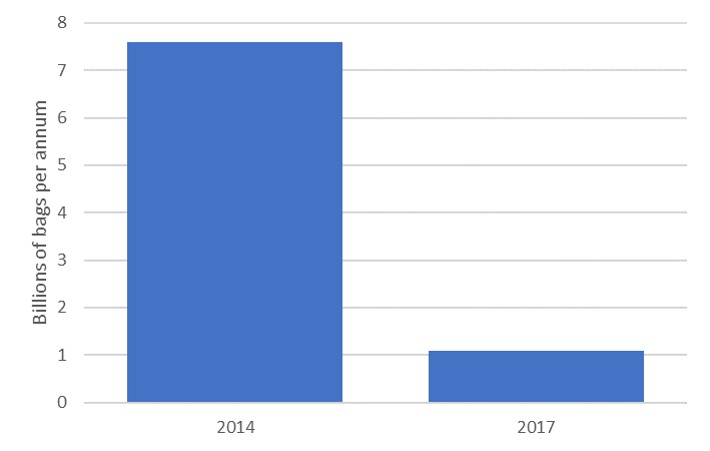 The number of bags used dropped from 7.6 billion per annum to 1.1 billion.  That's an 85% reduction in single-use carrier bags, with the remaining 15% raising £29.2 million for charities and good causes.
Now – New York.
Plastic.  Is.  Everywhere.
When you buy groceries, everything is double bagged by default (cashiers will pre-double bags in-between customers), and the bags are huge.
I've gone to the local supermarket for a small amount of stuff, and walked out with 6 plastic bags.
It feels wrong, and to put things in perspective this is how New York City's carrier bag consumption compares to that of the entire United Kingdom.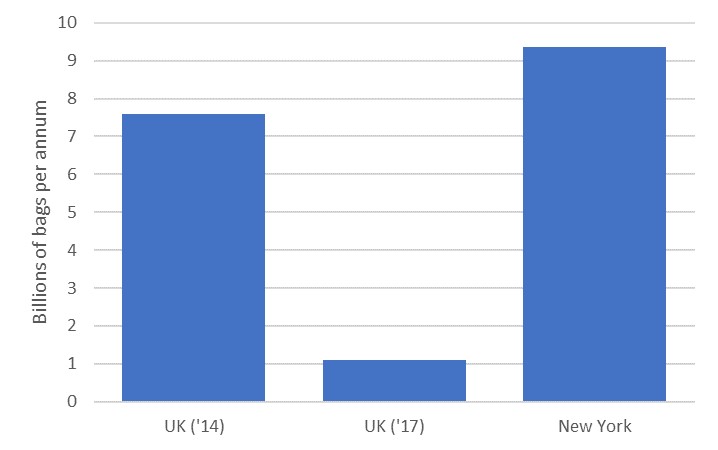 That's right, the City of New York with a population of 8.5 million consumes more single-use plastic bags than the entire United Kingdom.  That's 1,102 bags per person per annum.
Now, to be fair, New York knows it has a problem.  Mayor Bill de Blasio had tried to introduce a 5c fee in the City of New York, but this was blocked earlier this year by the state Govoner Andrew M. Cuomo.  Why?  Because:
it was seen as an unfair tax on the poor;
state legislators were unhappy that the 5c could be retained by the vendors; and
Cuomo wants a state-wide implementation.
There's a deadline for the end of this year for a report and draft legislation for state wide implementation, but with politicians arguing about 3c versus 5c I'm not holding my breath.
In the meantime, we've taken a more active position on refusing baggage when not needed, asking for a single bag instead of double bagging, taking a re-usable bag when we're going shopping, and using any single-use-bags we get as our garbage bags.